'Tis that time of year again.......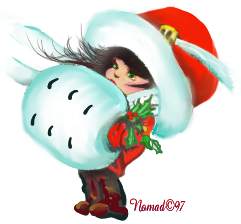 ......and I have a little surprise for YOU
to get you into the Christmas spirit! *S*
Please click on the Christmas Snow Globe to download your surprise.
Click on the Christmas Elf if you need some downloading help. *S*









Downloading Instructions:
When the pop-up box appears, please choose a location on your computer to save the file to and remember where you saved it. Click on the "Save" or "Save As" button.
IE Users: please choose "Save file to disk" and then choose the file's destination from there.
CAUTION: This program file was virus-free when I uploaded it to my site but you may wish to scan it with your anti-virus program just to be on the safe side before you run the program!
When you are done downloading the file, go to the location where you saved it and click on the file to run it. I hope you enjoy it! *S*
P.S.: The file may take a little while to download.
It's almost 1.9kb but definitely worth the wait!
And if you forget the file name, it's "tree.exe"
(minus the quotation marks)
in case you need to search for it on your computer once it's downloaded! *L*
May you and your family enjoy the holiday season! *S*
-- from my family and me!



Home

Back


Thank you, Sirensong, for sending my mom the file! *warm smile with a hug*
-- Melissa (a.k.a. "Two-Bits")